13X4 Lace Frontal Wigs VS 13X6 Lace Frontal Wigs
The 13X4 and 13X6 lace frontal wigs are two kinds of the most popular types of lace front wigs. Sometimes, girls love these two types of lace front wigs even more than the full lace human hair wigs.
What is a 13X4 Lace Front Wig?
The 13x4 lace front wig is constituted by half-tied lace and half machine-made wig cap. It is placed at the front of the head. The 100% virgin hair is knotted in to the lace hole on the lace part and sewed on the machine-made wig cap. The size of the 13X4 lace frontal closure is 13-inches across and 4-inch back. The height of the hand-made lace section from the hairline to the lace edge is 4 inches. 13X4 lace closure width is the width from ear to ear.
What is a 13X6 Lace Frontal Wig?
The 13x6 lace front wig is similar to the 13X4 lace frontal wig. The only difference is that the size of the 13X6 lace frontal wig is 13-inch across and 6-inch back.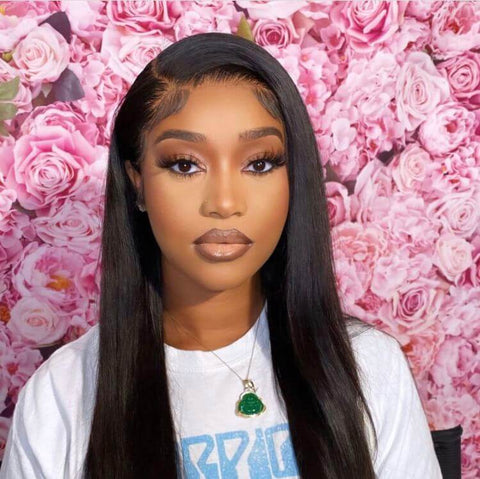 Difference Between 13X4 Lace Front Wigs And 13X6 Lace Front Wigs
The Lace Size is Different
One of the main differences between the 13X4 and 13X6 lace frontal wig is the lace size. While the lace front for both wigs is ear to ear, the 13X6 frontal lace is bigger than that of 13X4, the 13X6 lace closure can cover 2 more inches at the back.
Different Breathability
The high-quality transparent lace closure is very breathable. We know that the bigger the lace closure, the better the breathability, so the 13X6 lace frontal wigs is more breathable than the 13X4 lace frontal wigs.
Different Price
The price of a 13X6 lace front human hair wig is slightly higher than that of 13X4 because of the bigger size of the lace.
You can choose a 13X6 lace frontal wig if your budget is enough, because you will have a more breathable and natural look. However, no matter which of the two you get, both of these wigs can flatter your look.
---