A human hair wig in Lovmuse Hair was highly recommended by a Influencer called African Barb from TikTok, which is fashionable and beautiful. Want to know which human hair wig it is? Let's take a look at this human hair wig, you must will be attracted to it!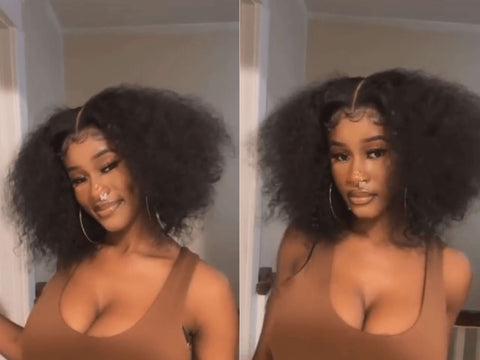 So What Kind of Human Hair Wig it is?
It is the 4x4 Lace Curly Wave Bob Wig, which is a glueless wig!
The lace size of this wig is 4x4 inches, which is a small part, so the installation is no glue needed, just put it on and secure it on your head with some clips, it is super convenient! You can also see from the video that even if you shake your head hard, the wig won't fall off from head without glue.
The length of Bob wigs is only reach to the shoulders, which is shorter than other wigs, so it looks more refreshing and neat, especially in summer, a Bob wig is a nice choice for its cool and refreshing.
Curly hair is one of the most hot-selling hair textures that all customers love. Curly hair is unique and fashion. By appearances, the curls of curly hair are tighter and irregular that can make the curly hair wigs fuller and softy.
What about? Are you excited? Do you want to have the same one? Click the button below to get it now! And the exquisite gifts are also prepared for you!
---