Have You Found the Right Bob Wig?
There are many reasons why women choose a bob wig. The most feature of a bob wig is that the length of it doesn't go beyond the shoulders and can perfectly flatter your face shape, bring your facial details into focus, it is very fashion and vivid. The short length of bob wigs make it has the lower maintenance cost than other kinds of wigs.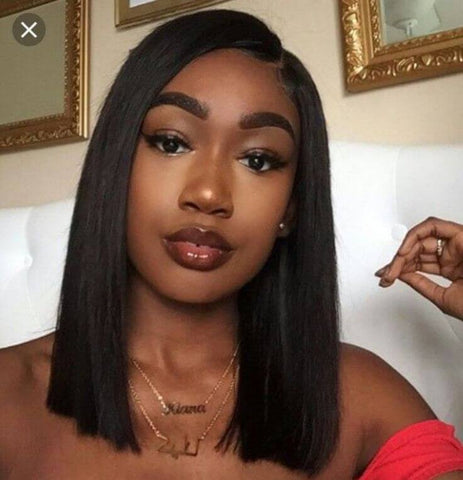 What do we need to pay attention to before buying wigs?
Wig Types
Bob wigs can either be lace or glueless. It's you to decide whether you want lace adhesives on your scalp to secure the bob wig. The price of a glueless bob wig is more affordable than a lace bob wig.
Skin Tone
You should consider your skin tone and how it will match with the wig color you intend to get.
Quality
All the bob wigs in Lovemuse Hair are made of 100% human hair, high quality, can be dyed or permed at your will, the transparent lace is breathable, invisible and soft for a realistic hairline.
Hot Selling Bob Wigs Recommended in Lovemuse Hair:
13x4 Straight Hair Bob Wig
This is a very classic Bob Wig. The straightness and smoothness from the root to the tip of the hair is very elegant. The natural black hair and the right curvature make your temperament very noble. You are the focus of attention with it! It is made of 100% human hair with superior quality and silky touch.
Lace Part Bob Wig Curly Hair 
The lace part wigs have the same lace front part as 13x4 lace frontal wigs, have enough long and deep hair parting space, but the price is more affordable. When the curly meets Bob, an exciting spark will appear! This is a beautiful and fashion hairstyle.
4x4 Lace Closure 613 Blonde Bob Wig
If you want to be in a good mood every day, start with this 613 Bob Wig. This is a very carefully designed colored wig, the 613 blonde is so chic and unique, you will be attracted by all the people, the fashion girl is you!
---