How to Curl a Short Bob Wig With a Curling Iron?
What is a Classic Bob Haircut?
A classic bob haircut is a style more and more popular among women for its simplicity and timelessness. The end of the bob hair is cut into the same length all around the head. A chin-length bob hair is the most common, in which the hair will fall just to the jawline for flattering your face shape.
While there are many ways to design a bob wig, making it curly is a good way to be in fashion.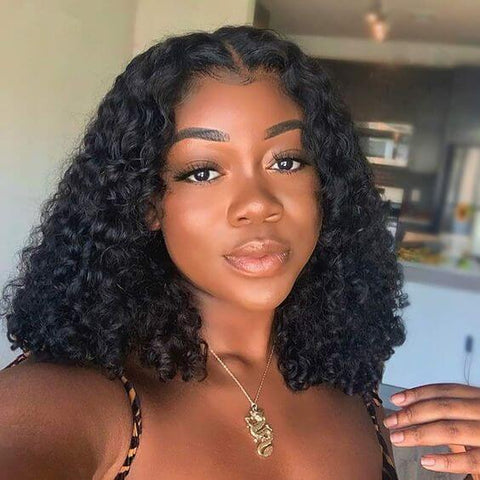 Here is a Way to Curl Your Bob Hair With a Curling Iron.
Spray thermal protection on the short bob wig. This is an important first step as it will help you prevent heat damage. Spray it into fine strips and comb the whole product from root to tail.
Divide the hair into two parts by creating a horizontal part between the tops of the ear. Use a crocodile clip or hair band to pull up the top and keep it fixed. You will start curling from the lower part, which will help keep the upper layer up.
Select a curling iron with adjustable heating settings. Set your temperature to the lowest temperature for the first trying. For delicate fragile hair, may not need more than 80 degrees.Hair is thicker or healthier can withstand 100 degrees temperature. In most cases, avoid over 150 degrees. Wear heat-resistant gloves to prevent scalding of fingers.
When using a curling iron, be sure to angle your short bob wig  away from your face and not toward it. On the right, you will wind each strand clockwise around the curling iron. Then, on the left, wrap it counterclockwise around the curling iron.Avoid wrapping the ends of each thread around the curling iron. Wrap each strand around the curling iron until it has about 1 1/2 to 1 1/4 inches (1.27 to 0.64 cm) of hair at the end, and hold it in place for about 5 to 10 seconds.
If the short bob wig has a blunt end or laminate, it can be highlighted by making the end flat. If you curl the ends of the curls, they may curl in different directions and look untidy, especially as the curls begin to relax throughout the day.
Finish curling the bottom strands, then move to the top half. Start curling the top section in a similar way so you can finish all the curls.
---