How to Deal With the Hairline of a Lace Wig for More Natural?
Everyone who wears a lace wig a lot want both the hair and hairline to look as natural as possible. But most people can't go to the barbershop every day to do special handles for the lace wigs, because this is a waste of both time and money. Want to know how to make a lace wig look more natural and realistic?
The common method is to pluck the hairline of the lace wigs. The hair around the hairline is usually thick and unnatural. Plucking the hair of a lace wig can make the hairline more natural.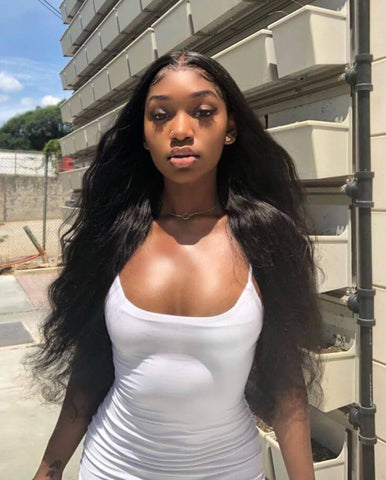 How to Pluck the Hairline to Make it More Natural?
Before plucking the hairline of a lace wig, prepare the tools you need, such as a wig frame, tweezers, scissors.
Step 1: Place the lace wig on the wig stand and use some pins to fix it. You need to make sure it is tight to avoid moving the wig back and forth during use.
Step 2: Apply some foam mousse to the hair of the lace wig, and then separate a little hair on the front or periphery of the hair.
Step 3: Starting from the hairline near the ears, pull the hair from the face back to the back of the head. First, pull out a little hair to see how it works, don't pull out too much hair and lace of the lace wig. If you think the hairline is still too dense, you can go back and repeat these steps.
Step 4: When pulling out the hair, make sure that there are no obvious lines at the beginning of the lace. Make it have a gradual effect, so the hair is less dense around the hairline to completely covered.
Step 5: Make baby hair. Separate a small part of the hair from the hairline, and then cut the hair with scissors until the hair reaches the length of your baby hair.
---