Is 150% Hair Density Suit Me?
Hair density refers to the overall thickness of hair strands on your head. It means that hair density displays how close the hair is packed together on your head. Today, when buying a hair extension or a hair wig, women tend to pay attention to the hair density. They want a good-looking hair item with a suitable level dense. Here are the two most popular levels for the hair density you should know:
– 150% (medium density): This is the most common hair density, it's neither too thick nor too thin. It's suitable for most people.
– 180% (medium density): This popular hair density is preferred by the young who want to have beautiful tresses. A wig with this hair density is easy and comfortable to wear, and it will make your hair look full.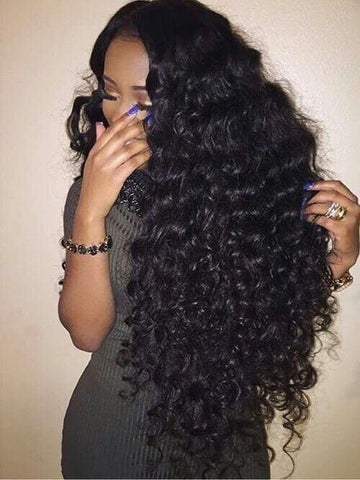 What Should Consider Before Buying a Wig With 150% Density?
The Hair Density of Your Human Hair
If your hair is very thick, you can ignore this level. Otherwise, your hair will appear quite unnatural. You can wear a human hair wig with 150% density if the density of your human hair is close to 150% or thinner. Please choose the hair density close to your natural hair.
The Hair Length
If you love long hair you can go for a hair system with 150%. Choosing the hair length between 16-20 inches is perfect. We recommend using medium density instead of the extra-heavy one.
The Hair Texture
As we all know, the texture of the hair also effects its density. For example, you should choose a medium or heavy hair density if you reach a straight hair wig. For the curly hair, it always looks fuller, so the 150% density is better and enough.
Now you have a insight into the 150% hair density meaning and hair density in general, now you may answer the question "is 150% hair density suit me?" or "what is the most suitable hair density for you"? and make a decision.
---