Lovmuse Member Got the FREE Wig!
A few days ago, lovmuse launched the Event about Valentine's day, every member has the opportunity to get a free wig!
Several days have passed since the event, now it is time to show the lucky dog!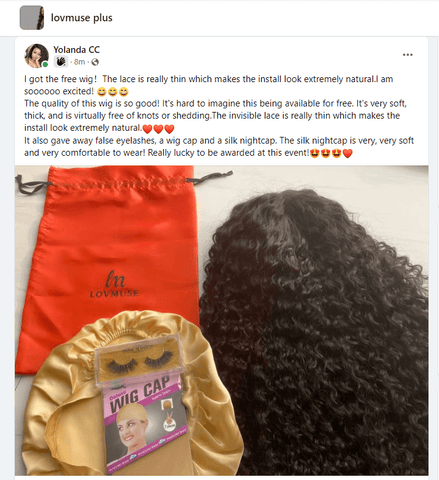 Yolanda not only got the 5*5 Curly Wave Lace Wig For FREE but also got the gifts of a pair of eyelashes, a hair cap and a silk nightcap!
We can feel how happy and excited she is!
Next, let's take a look at the wig which excites her so much.
5*5 Curly Wave Lace Wigs
This is the most hot selling and popular wig in Lovmuse!
5*5 Curly Wave Lace Wig is made of 100% human hair and transparent lace. The lace size of the hair cap is 5*5. 100% human hair can be permed and dyed at will, it is very soft and natural. The transparent lace is almost invisible and it can perfectly adapt to women of all skin tones ideally and create a natural and realistic hairline.
Would You Like This Wig?
5*5 lace wigs are on sale now!
25% discount on all 5*5 lace wigs!
CODE: HD55
Lovmuse Hair also has the other wigs with high quality and affordable price, such as V part wigs, lace frontal wigs, highlight wigs, headband wigs, there is always one for you!
Join the Lovmuse Facebook Group now! https://bit.ly/34R7Mba
The group is launching various discounts and events from time to time, maybe the next lucky dog is you!
---