One Chance To Get A Free Wig
Lovmuse are committed to providing high-quality human hair wigs. All the wigs are made of 100% unprocessed human hair and provides the confidence of people being beautiful.
Valentine's Day is coming soon, To celebrate Valentine's day and give back to new and old customers, Lovmuse have launched an activity to get wigs for FREE! You can get anyone of wigs with high quality and cost price from Lovmuse Hair!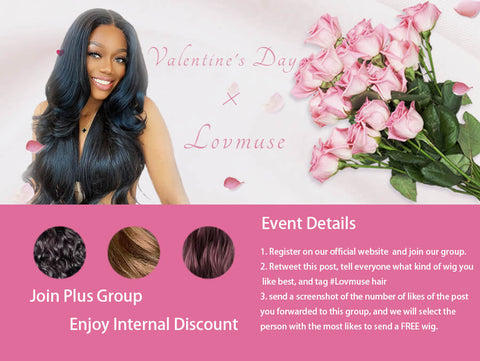 Just Three Steps To Get Free Wigs:
1. Join us and register on our official website.
2. Retweet this post on your facebook, name what kind of wig you like best, and tag #Lovmuse hair.
3. Before 0:00 on February 14, 2022 (L.A. time), send us the screenshot of the number of likes of the post you forwarded, and we will select the person who get the most likes to get a FREE wig! Other participants can get our 30% discount coupon!
Activity only available in the US
Activity duration: From today to 0:00 on February 14, 2022 (based on Los Angeles time)
It is a best choice for everyone who wants to get a new wig! Come on!
---