Tips of the Installation of Lace Wigs
Most people are familiar with the lace wigs and love them. But not everyone has got the right details about installing a lace wig especially for the beginners. Here are some useful tips for lace wigs installation.
Do Preparation Before Installation
Prepare some hair tools you need during an installation. Like hair clips, a wide-tooth brush, a suitable glue, etc.
Make sure your lace wig is clean. Use the wide-tooth brush or fingers to detangle the lace wig slowly and gently.
Confirm the lace color of the lace wig can melt perfectly into your skin tones. It is recommended that to buy a high quality transparent lace wig, which can match with all skin tones. A perfect lace can offer a more natural, realistic look.
Brush your own hair and keep the hair flat and neat. Then cover and hide your own hair with a wig cap to get a better wig look.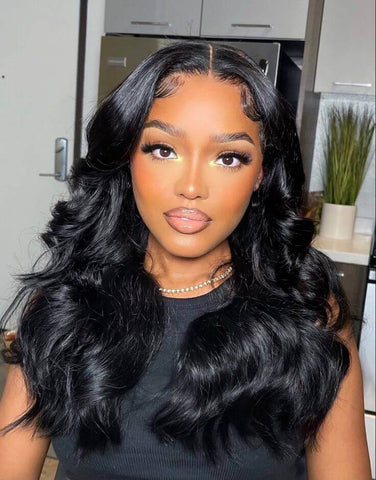 Install and Secure the Lace Wig
Put on the lace wig and adjust it into a perfect, comfortable position.
Lace closure wigs are not necessary to use glue to secure a lace closure wig because of the small part of lace, you can secure a lace closure wig only use some clips and an adjustable strap. Other lace wigs like lace frontal wigs, full lace wigs, they usually need to use glue to secure.
After securing the lace wig, you can start to cut the extra laces carefully. you can also use some foundations or powders to make their hairline more natural and it is better to do the pre-plucked with the hair. Finally, you can do some different hairstyles as your preferences.
Daily Care After Installation
On the one hand, lace wigs need to be washed and conditioned. Wash and condition it regularly can protect your natural hair from damage. On the other hand, your scalp also needs to take a breath for health.
---