Top-Selling Curly Hair Wigs Recommended
Curly hair is always the most popular and hot selling hair in all the hair textures for its fashion and lively look. There are all kinds of high quality curly hair in Love muse, what are the most hot selling curly hair in Love muse? Let's have a look.
The high-quality transparent lace is more transparent, more breathable, thinner, lighter than regular lace that can melt into every different skin tones perfectly. the lace part of a 4x4 lace closure wig is smaller than other lace wigs, so the price is more affordable, and the installation is also more easier.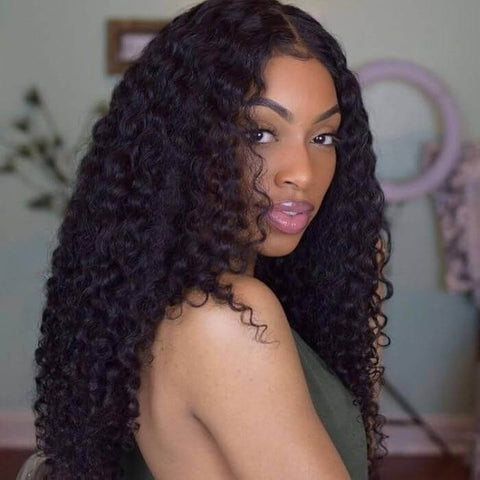 V Part Curly Hair Wigs Human Hair
V part wigs are human hair wigs without lace, only have breathable elastic net caps, and some clips and adjustable band for securing the wig. It is the perfect wig for people who have a hurried morning and the beginners for its easier and more convenient installation, normally it only needs to take 2 minutes. Besides, the prices of V part wigs are more affordable and competitive for most customers. People who have a limited budget can consider it.
13x4 Lace Front Wigs Curly Hair 
The lace front wig is one of the most popular lace wigs. Lace front wigs have 13 inches wider lace frontal that can cover people's whole forehead from ear to ear for a full, realistic hairline. 13x4 lace front wigs have 4 inches hair parting space that can be parted freely for hair style versatility achieved.
What Face Characteristics are Good For Curly Hair?
Square Face
If you have a square face, then you can choose curly hair. All of these curls are fashion and lively, it's easy to show sharp edges if you choose straight hair wigs. Thus, it's better to choose the curly hair which can flatter your shape face with the tight curls and make you more beautiful and charming.
Long Face
If your forehead, cheekbones, and jaw are roughly the same width across, but your face is less than two-thirds of its length, then your face shape is long. When you choose a curly hair wig, it will not only help you visually shorten the length of your face, but also make you look younger. Of course, the short bob wig with bangs is also a good choice. Because the bangs can work the same way.
---