What Kind of Density of a Wig Do You Fit?
What is the Density of Wigs?
It is very important for people who buy a human hair wig for the first time to choose a suitable wig density. the Density of wigs means the thickness of wigs. Different density wigs have different quantities of hair bundles on the back. The more lines of hair bundles a hair wig has, the thicker a wig is.
If you don't like a human hair wig that is too thick and think it is very airtight, a 150% density human hair wig is a good choice for you. Most of people like the density of 150%, because it is not too thick or too thin, which fits most girls.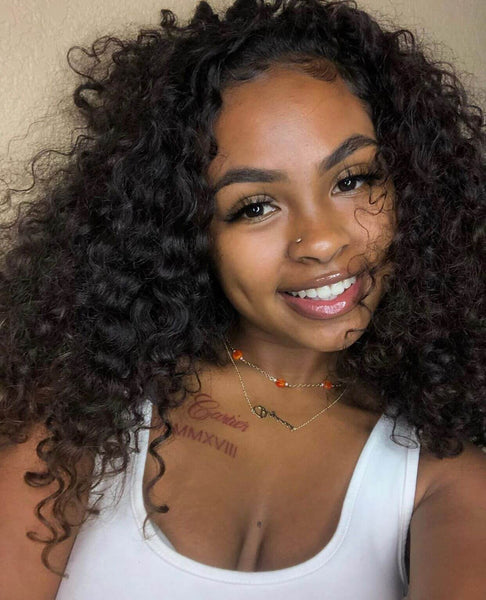 How to Choose the Best Human Hair Density of Wigs?
About how to choose the best hair density of human hair wigs, there are some objective and subjective influencing factors, including different hair textures, hair lengths, seasons, and personal preferences, etc.
Seasons
Winter is more suitable for wearing thick human hair wigs because winter is colder than summer, wearing a human hair wig with thick density will be more warmer. On the contrary, it is better to wear a thin human hair wig in summer, that will be cool.
Hair Lengths
Short human hair wigs like bob wigs are better to choose the thin hair density, like 150% hair density is enough. the thick density of a bob wig will make people look fatty. While, long human hair wigs with high density will be better, long hair has a sense of sag, if the human hair density is too thin, it will appear that the thickness of hair is very thin.
Hair Textures
Human Hair wigs with curls will look fuller and thicker than straight human hair wigs. So when you decide to buy a classic straight human hair wig, you can consider choosing some higher density of wigs for having the fuller hair.
Preferences
Different people have different feelings about the thickness of human hair wigs, you can choose your prefer wigs that make you feel the most comfortable. Comfortable is best.
---