What Kinds of Human Hair Wigs are Fuller?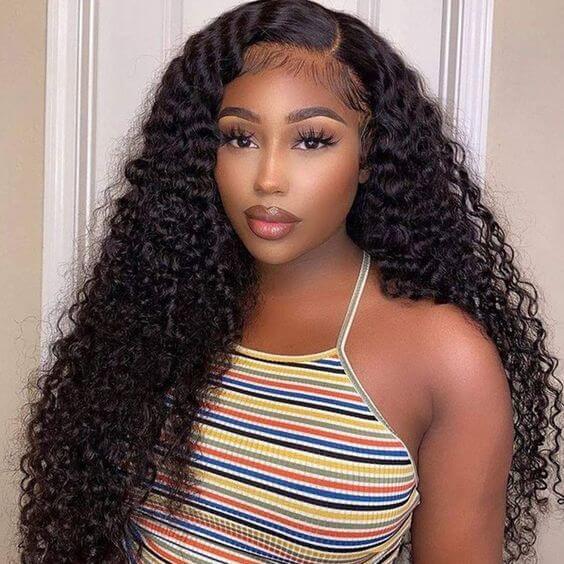 Fuller hair has always been popular and loved by most of people. If you are a girl who want to get beautiful and fuller hair, choosing a fuller wig is better and convenient than dealing with our natural hair, and you can change hairstyles at will to achieve any fuller hairstyle you want.
Why Choose Fuller Human Hair Wig?
Fuller hair can add the volume of the hair visually. When your hair is fuller enough, your face will look smaller and more delicate. Compared with flat and smooth hair, it will also has a stronger sense of hairstyle design, people will not only notice your facial features but also pay more attention to the harmonious beauty of your hairstyle and your face shape.
What Kinds of Human Hair Wigs Are Fuller?
Generally speaking, human hair with curls will look more fuller, the more and smaller curls the wig has, the more fuller the hair will look. Wavy hair and curly hair are more fuller.
Fuller Human Hair Wigs Recommended
5x5 Lace Closure Curly Wave
The curls of curly wave hair are tight and curly that look more fuller. This human hair wig is available in 16-30 inches, so whether you want a long or short fuller curly wave hair wig, you can get one. You will show your unique with this classic curly wave hair.
Highlight Deep Wave Lace Front
The color mix of dark brown and blonde can make your hairstyle look very attractive. The brown hair can match your skin perfectly, the blonde highlights play a role in brightening your whole look. meanwhile, the blonde hair makes our hair look more fuller visually.
Short Fluffy Curly Pixie Cut
Pixie is a very cool and full short haircut, and the short pixie wigs are about to become more popular in the coming summer. In addition, short wigs are also easier to care for, and you don't need to spend too much energy and time to style and care for your wig. Shorter wigs also mean more affordable prices.
---