Why Choose Headband Wigs in Summer?
The hot summer is coming, summer is a time of love and hate for most of women, on the one hand, you can wear all kinds of beautiful dresses, sexy bikinis to show your beauty, this is an exciting thing, while, on the other hand, the summer hot becomes a thorny problem when it comes to managing your hair.
Finding a human hair wig that can fit in the hot summer is an important problem. The great thing is that there is now a human hair wig that is suitable to wear in the hot summer, beautiful and convenient. It's a headband wig.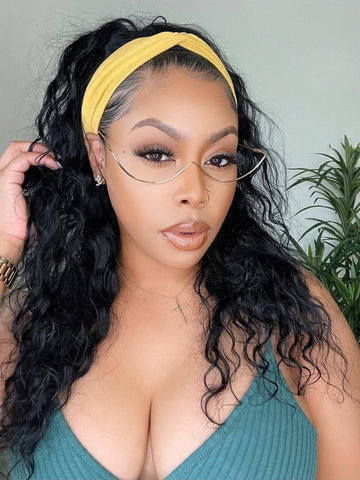 What is a Headband Wig?
The headband wig is a new fashion design for women, which is the creative collection of a springy and silky headscarf, it is a glueless wig. There is an adjustable back strap on the back of the headband wig, several clips, and an adjustable hairband sewn inside, so you can fix the headband wig well without glue, tape, or other adhesives.
Why Do You Need a Headband Wig?
No Glue Needed, Protect Natural Hairline.
A Headband wig doesn't need any glue to hold it in place, which would be helpful to protect your scalp. Lace wigs need to be glued to the forehead, and the glue can easily hurt your scalp and cause hair loss.
Money-Saving and time-Saving, Friendly For Beginners
You don't need any experience to wear a headband wig, even you are a beginner, you can put the headband wig on your head easily, just need to adjust the headband and fix it with clips on the wig cap. It will finished in 3 minutes.
Match Outfit in Different Styles
You can decorate the original black headband with headscarves of other colors or patterns according to your preferences for matching your outfit in different styles. Headband wigs can also be braided, or made into a bun, this is easy to realize and as natural as your hair.
Headband wig is one of the most popular and convenient human hair wigs, put on and go, breathable and light, natural hairline, save money and time.
---