Why Choose the Human Hair Wigs with Bangs?
When we are used to the hair parting of middle parting, oblique parting or side parting, we can consider trying a hairstyle with bangs.
Hide and Protect Your Hairline.
If you are not satisfied with your forehead, you can wear a human hair wig with bangs for hiding your hairline, it will also help you protect your natural hairline, glue is not a necessity to wear the wig with bangs, which will reduce the damage on your forehead caused by glue.
Beautify Your Appearance
Human Hair Wigs with bangs are also one of the best hairstyles for younger. The shape of bangs suitable for different face shapes may not be the same, but as long as you choose the one that suits you, the advantages of your face will be magnified.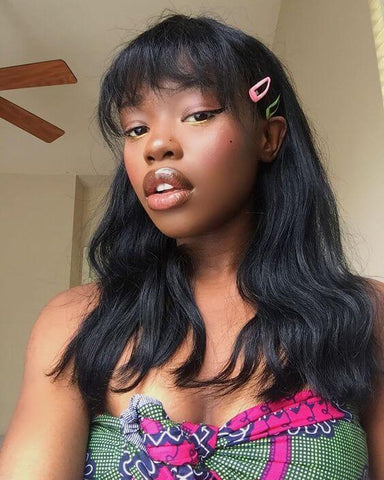 More Hair Styles
For human hair wigs with bangs, there are many options that you can choose, straight bangs, curly bangs, wavy bangs, different hair color bangs...it can be vertical bangs or oblique bangs, you can also clip the bangs to the side with a hairpin, which is a new look again.
A Simple New Look
If you want to make something different to yourself, but don't want to make any bold or drastic choices, wigs with bangs are the simplest option. Wigs with bangs are unique compared with other kinds of hair styles.
How To Make the Bangs by Yourself?
There will be a seam between your bangs and the rest hair, so a lace frontal wig is better to make bangs.
Firstly, wear your lace front wig,
Then, decide how much hair to leave for the bangs, thick and thin are both OK, use a hair iron to make the sectioned hair flat enough.
Next, twist them together and cut them into a proper length. Remember don't cut them too short, you can leave a length to the position of your nose.  
Continue to use a hair iron to make your bangs flat and natural. Then you just need to trim them with a scissor into the shape and length that you like.
---