Why do we Need a Glueless Wig?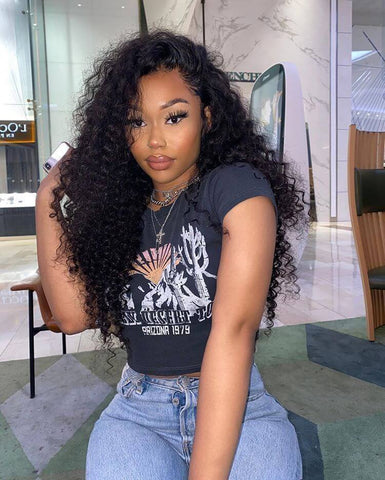 What is a Glueless Wig?
Glueless wigs use combs, adjustment straps or clips to keep the wig on the head, not the glue, because they do not have lace. such as V part wigs, U part wigs, Headband wigs, they are all glueless wigs.
Why do we Need a Glueless Wig?
Easy to Wear and Remove
One of the top benefits of glueless wigs is that they are easy to attach. You simply adjust the clips in the cap to keep it well on the head. It is also easy to remove the wig, you can remove it easily when you are going to sleep without using a remover.
Good for Sensitive Scalp
Glueless wigs are best for women who have allergic reactions to chemicals in the tape or glue. The quality glueless human hair wigs can insure the comfort for the scalp since they don't need adhesive to wear the glueless wigs. Glueless wigs are safe for both your scalp and tresses.
Natural Hairline
Glueless wigs mix well with natural hair, it can have a natural hairline and real appearance. Lovmuse glueless wigs are made of human hair, you can restyle and dye it according to your needs.
How to Wear a Glueless Wig? Just 2 Steps:
First, you need to prepare your natural hair. You can braid it or tie it in a low ponytail. You can opt to wear a cap or not as it's all up to you.
The next thing is to put the wig on your head and adjust it with clips or straps for a suitable feeling. not too loose or tight.
Finished!
If you are a beginner or you just need a wig for an special occasion for a moment, the glueless wig is the best option.
---