Why Should You Wear a Bob Wig?
What is a Bob Wig?
The short bob hair wig is classical just reaching shoulders with optionally loose, there would be perfect if you like exactly shawl Hair. The bob wig is one of the popular and best human hair wigs. All hair of a bob wig is 100% human hair and has no fiber or artificial additives. It keeps the natural color and texture of hair and makes it look more natural. A bob wig is shorter than other kinds of wigs, usually 8-14 inches.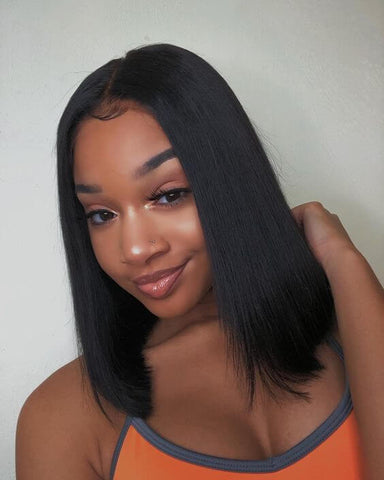 Why Should You Wear a Bob Wig?
1. The Various Hairstyles
Most women will feel tired with the changeless human hairstyles. There are many bob hair styles for you to choose from, 4x4 short bob curly hair lace closure wig, lace part curly wave bob wigs, 613 blonde bob straight hair wig, 5x5 body wave bob wig, etc. There is always one for you.
2. Comfortable and Refreshing
Bob wigs give people a clean, simple look. It can also be a comfortable and refreshing experience, especially in the hot summer days. Would you wear a long, heavy wig in the hot sun? Of course not! The 100% human hair Bob wigs are the best choice in summer for refreshing.
3. Convenient Maintenance
A Bob wig is usually 8-14 inches in length. Because of its short length and easy to handle, it will save much time when cleaning. It is also relatively simple and convenient to install.
4. The Affordable Price
The length of a bob wig is shorter than other kinds of wigs, so the price of a bob wig is more affordable. Different types of bob hair wigs are available to meet your different budget requirements.
Of course, it is recommended that to buy more than one popular bob wigs if you have the enough budget. You can change your human hair bob wig from one to another at any time. This will also greatly reduce wear and tear on your wig for making your wig last longer.
In short, whether you're thinking economically, in terms of beauty and fashion, or in terms of comfort and utility, you'll all need a bob wig.
---