Why You Should Get a V Part Wig?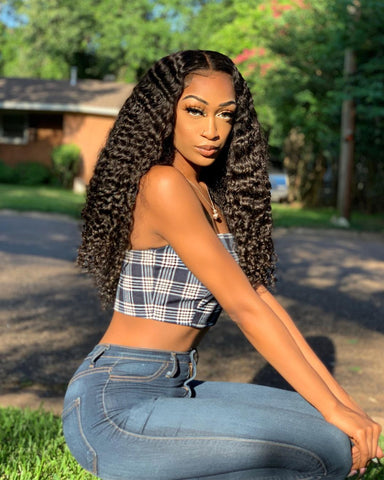 A V Part wig is a new type of U Part wig. It is improved on the basis of the U Part wig. It has a "V" shaped opening at the top of your head, the weaves of V part wigs are sewn onto a wig cap with an opening, the opening of the wig is left for the natural hair to go through. You can blend your own hair through the V-shaped opening at the top of the wig, then create a natural hairline.
The Details Of Lovmuse V Part Wigs
Hair Material: 
100% virgin Human Hair.
Can be dyed, permed, bleached, styled as your own hair.
Bouncy, soft and comfortable.
Installation:
No lace, No glue, Secure with clips
Easily removable and wearable.
Cap Size: 
Fits most head sizes.
Can be adjusted with straps and combs, 5 clips on the cap.
Made Method: 
Machine Made & Hand Tied
Hair length:
14-26 inches
Some Tips For You to Wear the V Part Wigs:
Before you decide to make a V part human hair wig, you had better decide how much hair you prepare to leave out in advance and then mark the V-shaped part on the V part wig cap according to your need, which can help you avoid the V-shaped part too small or too large to some extent.
When you start to sew in the first and last weaves on the V part wig cap, please make sure the weaves are laying as flat and close together as possible, which can make the V part wig style and blend with your natural hair much easier.
When cutting the excess fabrics, you must take care not to cut close to the V-shaped part.
Lovmuse Hair  has affordable V part wigs with high quality, come to Lovmuse Hair to choose one!
---